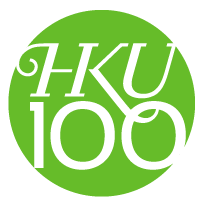 The "HKU 100" logo is the main visual element of the HKU Centenary Signature.

The circular shape, symbolising fulfilment and perfection, features two distinctly different typefaces: an historical swash italic for the letters 'HKU', echoing the classical architecture of the Main Building, and a very contemporary sans serif for the numerals '100'. The typefaces strive to reach out beyond the circular confine, ever wanting to achieve more.

Dark green is the traditional University colour. A more vibrant and dynamic shade of green is selected as the primary colour for the Centenary Signature.

The University of Hong Kong boasts of a proud heritage and embraces the challenging future. The counter-play of tradition and modernity reflects the excitement of this very historic moment.



Designer: Mr Tommy Li
"This is an exciting project and I am honoured to have been involved. The Centenary of HKU represents the centenary of tertiary education in Hong Kong. HKU has grown with Hong Kong. HKU is also a brand that Hong Kong people have grown up with, and we are proud of it. I believe the signature, which I see as more than just a logo, reaffirms the uniqueness of HKU."

Tommy Li is one of Hong Kong's most distinguished designers.

All parties who wish to use the Centenary Logo in print, electronic media including websites as well as give-aways are invited to fill in the
pro forma
.
THE USE OF CENTENARY LOGO IN CONNECTION WITH TRADE, BUSINESS OR MERCHANDISE IS PROHIBITED.
For enquires and further information, please email:
100logo@hku.hk
or call 2859 2791